How to know TV size for example 42 inch TV dimensions length and width
When we talk about TV size, it is the diagonal length of the TV screen from corner to corner of the visible screen area, excluding the side frames. The picture here shows how a 42 inch TV screen size is measured. Since one inch is equal to 2.54 cms (centimeters), the Metric TV size will be 107cms. The actual measurement may differ a little, but the decimal points are rounded off.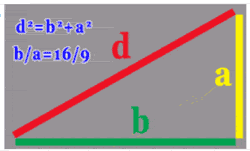 TV normally comes in the following standard sizes (" =inches) 22", 26", 32", 37", 40", 42", 46", 50", 55", 60" 65" and higher. The corresponding metric size of the TV in centimeters are 56, 65, 81, 94, 102,107, 117, 127,140, 152 and 165 cms respectively.
How to calculate width and height of TV screen
Without actually measuring the TV width and height it is possible to calculate the width (b) and height (a) of TV screen just by knowing the diagonal size of the TV. This makes it possible to kow the approximate width and height of a TV before even actually buying it. To make the calculations of TV width and height, we make use of the Pythagoras method as shown in the picture here. The HDTV widescreen aspect ratio of 16:9 is used. By knowing beforehand the width and height of TV you can know for sure what size TV will fit in your cabinet or make enough wall space to mount the TV on the wall. Thus a 40 inch HDTV will be 35 inches wide and 20 inches tall. Similarly actual size of 55 inch TV length and width will be 47.9 inch or 121.7cm wide and 27.0 inch or 68.6 cm tall.
Standard TV sizes width height
Standard TV Size
Width
Height
Inch
Cms
Inch
Cms
inch
Cms
32
81
27.9
70.9
15.7
39.9
37
94
32.2
81.8
18.1
46
42
107
36.6
93
20.6
52.3
46
117
40.1
101.9
22.5
57.2
50
127
43.6
110.7
24.5
62.2
55
140
47.9
121.7
27
68.6
60
152.5
52.3
132.8
29.4
74.7
65
165
56.7
136.4
31.9
81
These TV size calculations can also help you to calculate size of 4:3 pictures on 16:9 TV.
Let us assume you have 32 inch 16:9 LCD TV and you want to calculate the size of a 4:3 picture viewed in the 4:3 mode view of the 32" 16:9 television. Using the Pythagoras Theorem the diagonal d=32 inch, therefore the height 'a' in the figure is calculated as 15.75 inches. Since ratio is 4:3 the width will be 21 inches. So the 4:3 diagonal size is 26.2 inches on the 32" 16:9 TV. That means the TV 4:3 natural picture without zooming you see on a 32 inch 16:9 widescreen TV is equivalent to a 26 inch CRT TV with a 4:3 ratio. For a 40 inch 16:9 widescreen HDTV, the 4:3 natural picture without zooming will be the equivalent of watching it on a 33 inch 4:3 TV.
How far to sit from HDTV, Right size TV for viewing distance
There is an ideal distance between TV and sofa seating and this seating distance between Sofa and TV will depend on the size of TV. To know the size of TV to buy, you should first decide where the TV will be placed in the room and then measure how far to sit from LED HDTV or whatever type of TV you plan to buy. Then use the TV size to minimum watching distance chart given below to get an idea of the best size TV to buy.
The table chart below compares TV size to the minimum sitting distance required to watch TV. The TV viewing distance is the distance from the TV screen to the approximate position of your eyes when viewing TV regularly.
TV size and viewing distance are important factors to decide on the size of TV to buy. If you sit too close to a LED HDTV you will see the pixilation squares on the TV screen. As a general rule the TV to sofa distance ratio or HDTV viewing distance is 1.5 times the screen's diagonal measurement. Thus the best distance to sit from a 60 inch HDTV will be 90 inches or 7.5 feet (about 2.3 meters) from the TV screen
There are no official bodies, as yet, to recommend viewing distance for TV size. One of the leading Companies in the world of surround sound, THX, recommends viewing distance as follows.
To quote from the THX website:
How do you calculate the best seat-to-screen distance for a TV or projection screen? Divide the size of your screen by .84 (screen size is measured diagonally). For example, a 65-inch TV divided by .84 equals a 77-inch viewing distance (6.5 feet).
(adsbygoogle=window.adsbygoogle || []).push({});